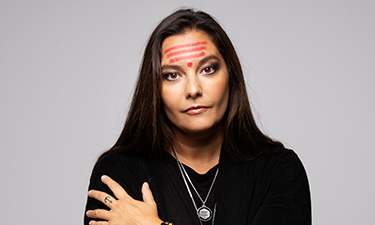 La Santa was born in Madrid, Spain, under the Sagittarius sign. She is the daughter of the sun, a sensitive soul, an eclectic DJ, and a modern music producer.
La Santa has been influenced by Classical Music, Jazz, Bossa Nova, Soul, and World Music. She creates a distinctive and extraordinary sense of belonging, enhanced through an inner journey. Her DJ sets are filled with sensitivity, harmony, and high doses of groove.
She has shared the DJ booth with the best international electronic DJs at the moment, such as The Martinez Brothers, Seth Troxler, Blond:ish, CHUS, Dennis Ferrer, Deborah De Luca, Oscar L, Audiofly, and Birds Of Mind, to name a few. La Santa expands her energy & grooves all over the world with her continuous plays in Ibiza, Tulum, El Cairo, Guatemala, Panama, Bali, India, Morocco, and more. Her style, influenced by the English, Dutch, and American underground sounds, has definitely converged into house music inspired by Soul, Tribal, Latin, and World Music, giving birth to a very versatile DJ whose sets can range from Minimal Deep Tech to Melodic sounds, encompassing Afro Tech and Latin beats.
La Santa's strength resides in her charisma. She creates a unique and extraordinary setting and atmosphere when she performs, where her energy can be felt, creating a distinctive vibe. La Santa's productions are highly acclaimed in the scene, and she has  worked on productions with high-profile artists such as FKA Mash, Jinadu, Sparrow & Barbossa, Blueheist and D-Formation, just to name a few. For example, the track "Cumanayagua" by La Santa and Sparrow & Barbossa reached number 11 in the top 100 best-selling Afro House tracks of 2021 on Beatport. Labels such as Stereo Productions, Nervous, Madoras In Da House or Redolent are witnesses of her wide range of music styles and unlimited love for different genres.
Redolent Music is her most recent project, a new independent boutique record label, event producer, management agency, and lifestyle concept created alongside renowned artist, DJ, and producer CHUS. It's purpose is to cater to the evolving music industry and develop emerging talent.